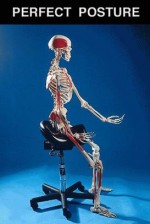 Situs offers top quality equipment that meets Dr. Liz Dowler's exacting medical standards for contributing to an injury-free office environment. The products are reasonably priced, and sold with an accompanying level of expertise unmatched by other furniture vendors in Alaska.
Our retail equipment consists mainly of ergonomically adjustable chairs (custom fit to our clients needs). A custom chair fitting is an added benefit offered by Situs wherein we are able to determine the unique postural support requirements and comfort needs of each individual.
Adjustable components include:

Seat and Backrest size

Shape and Contour

Chair Height Range

Arm Rest options

Air Lumbar support or Seat Sliders (optional features)
On the other hand, Situs chairs are also versatile enough to meet the needs of a large organization; providing ergonomically sound, cost effective solutions for your entire work force.
Take a look at some of the many chairs we offer that can be customized to meet your needs. Then contact us to schedule a custom chair fitting and  discuss how we can help you select the chair that's right for you.
RFM has an extensive line of chair models, each usually available in many sizes, with customizable options. As a result, we can mix-and-match chair components across most models to create a configuration uniquely fitted for your needs. Situs has been working with RFM since the mid 90's. Our founder Dr. Liz Dowler provided design guidance for some of the RFM chairs, particularly for the Solution Series models shown below.
Soma has helped pioneer the thoracic ridge chair design. These excel at providing mid back support in addition to lumbar support without pushing the shoulders forward or limiting the range of easy shoulder movement. Soma also intentionally uses a modular approach to building chairs, making customization easy.
ERGOCENTRIC
The AirCentric Series solves the engineering problem of having breathable support in a fully adjustable chair without the shape limitation of being defined by an outer frame like mesh chairs are, thus they can provide the fit of a seat with well-designed cushions while still having the breathability of mesh.
ErgoCenteric also has some well-designed saddle and prop stools that are also very economical.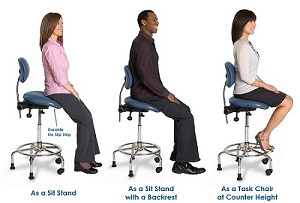 This is our premier saddle seat option. It has been designed based on years of research to help users sit as neutral as possible. It has shown to be effective for helping individuals who need an upright working posture, including many with serious musculoskeletal issues. They are available in four sizes, with and without backs. We usually stock most sizes in Anchorage in Black Vinyl.
Salli Saddles have innovative seats, offering an adjustable split seat option that allows the shape and feel of the saddle to be fit to the user.